Decorative Ornamental Buoys
Accent your cabin, study or den with one of our charming decorative ornamental  buoys. It will look great when combined with other nautical items. Buoys have long been used by fisherman in fishing along the entire Coast line , the wooden buoys used by the Maine coast lobsterman have a unique and storied past. Buoys are the visible brands of range. Cutting or stealing a lobster buoy in Maine is considered worse than cattle rustling. Bullets have been fired in anger and boats of unknown buoy rustlers have settled slowly to the bottom of the sea under a no-telling starry northern smile from the heavens. The Maine law that governs the pilfering of buoys is among the strictest, but if there is one souvenir each Maine tourist covets, it's the lobster buoy.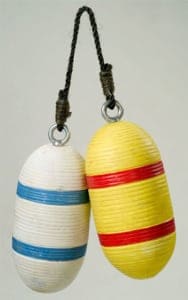 10″ x 4.5″ Wooden Buoys BY-05
This a set of two brightly colored wooden buoy's that have been purposely distressed to create that authentic look and feel. Each buoy is approximately 4¼" wide and the overall length is 10″. The length of rope between the buoys is approximately 13″.  These buoy's are a great nautical addition to any décor.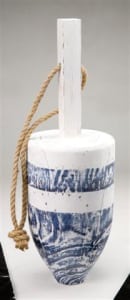 Blue Buoy BY-08 25″x 5″
These solid wooden hand painted buoys have been purposely distressed to create that authentic look and finish, even down to the cracks and splits. Each Blue and White buoy is approximately 25″  in length and 5″ at the widest point. The manila rope has not been included in any measurement.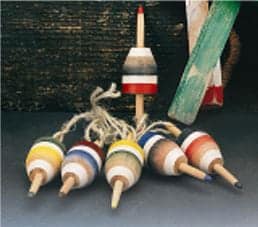 4.5″ Wooden Buoys set of 6  BY-03
Set of 6, you can accent your home, Office or boat. Placed on a table, shelf or bar, they will add a classic nautical touch to whatever room they are placed in and are a must have for those who appreciate high quality nautical decor. They make a wonderfully unique gift, and will be admired by all those that love the sea.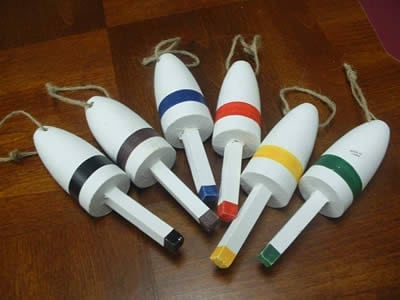 6″ Wooden Buoys set of 6 BY-04
This a set of six brightly colored wooden buoy's. Each buoy is approximately 6″ in length and 1½" at the widest point. The manila rope has not been included in any measurement. These buoy's are a great nautical addition to any decor in your home, office, cabin or even to decorate the tree