Row Boat Furniture
Currently Under Construction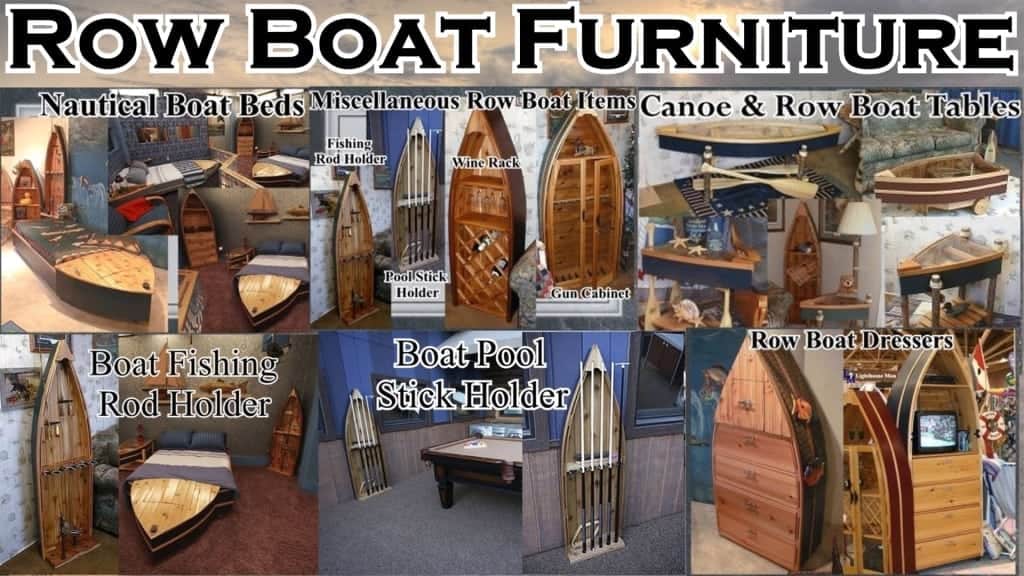 In years past, the Lighthouse Man was the proud home to an extensive line of high-quality handcrafted Row Boat Furniture. The photo collage showcases just a small sample of the wide variety of nautical furniture projects that we completed for our customers over the years. We offered basic, functional pieces such as row boat beds, dressers, and entertainment centers. We also completed specialized novelty pieces such as row boat gun cabinets, as well as racks for fishing rods, pool cues, and wine bottles. We also created canoe coffee tables, end tables, and even a functional bar!
Unfortunately, our chief furniture craftsman finally made good on his talk and retired. While we wished him well, his absence left a gap in our immediate ability to meet our customer's need for high-quality, handcrafted Row Boat Furniture. Fortunately, we have found another local craftsman and are currently collaborating with him to assume production of our full-line of Row Boat Furniture. We are pleased to already be able to offer Row Boat Shelves and Canoe Shelves in a wide range of sizes and color options to meet the interior décor and space requirements of our customers. However, it does require a considerable investment of time as we review all of the many project designs with our new craftsman. We want to insure that when we make items from our Row Boat Furniture line available again, that they will be quality pieces that serve our customers for many years. Sturdy pieces that are handcrafted from natural hardwoods and built to last. Offered in the sizes and colors that our customers are looking for and with the attention to detail that they've come to expect from the Lighthouse Man.
Therefore, we ask that you patiently allow us some time during this period of transition. We will continue to update the website and post new items as they become available for production and sale. However, if you're looking to complete a special Row Boat Furniture project and we don't currently offer it, then please contact us through the email link on this website and we'll discuss it with you.