Decorative Birdfeeders
The Lighthouse Man offers the largest selection of hand-crafted bird feeders for your lawn and garden areas. What is unique about our bird feeders is the detail with which they are created. The Lighthouse Man offers 6 various styles of Decorative Bird feeders for your feathered friends and in my parent's case, even the occasional furry friend. The first style is a 2' Lighthouse Decorative Bird Feeder. It is available in several lighthouse styles and comes with a threaded pipe mount. The second style is a wooden lighthouse decorative bird feeder. This is natural wood with 3 color choices for the base roofs, windows, and door. The third style of decorative bird feeder is the large Barn complete with the wooden silo, two tiered design doors and windows with a fence and stone bottom. This comes in natural wood with the rustic red color scheme. The fourth style of decorative bird feeders is the log cabin design. It has a stone chimney, wooden furniture on the front porch with a green grassy area. The fifth style of decorative bird feeders is the beautiful covered bridge. The roof of the bridge is greenish blue in color, the front is open for access to the birdseed, and is surrounded by a stone arch that supports the bridge. The final style of decorative bird feeders is the old-time Country Store design. This is also built using natural wood logs with the greenish blue colored trim and a placard announcing the Country Store. If you already have a home for the feathered friends, then why not look into a decorative bird feeder to complete the look.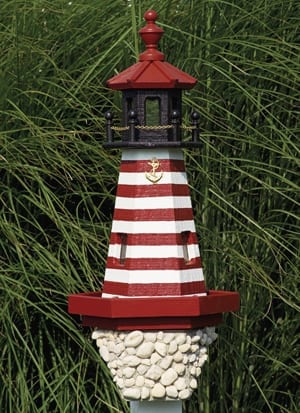 2′ Lighthouse Birdfeeder TO-2016
Measures: 18″x12″x24″
Available in several different Lighthouse styles:
Mounting: Includes 1.5″ threaded pipe holder.
Does not include stone on bottom.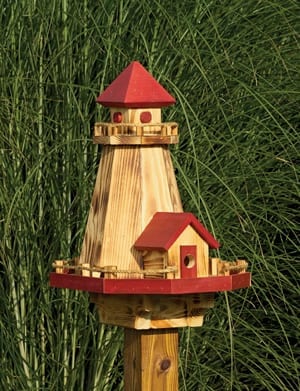 Lighthouse birdfeeder/birdhouse TO-2006
Measures 19.5″x14″x23.5″
Mounting: Includes 4×4 post bracket
Roof and trim Color Options: Red, Green, Blue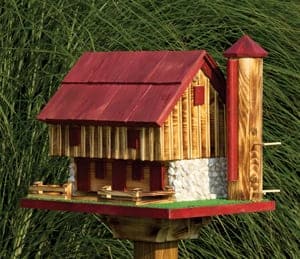 Barn Birdfeeder with Silo TO-2012
Measures: 16″x 23″x22.5″
Mounting: Includes 4×4 post bracket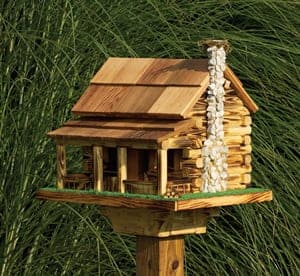 Log Cabin with Rock Chimney Birdfeeder
TO-2004
Measures: 14″x 20″x18″
Mounting: Includes 4×4 post bracket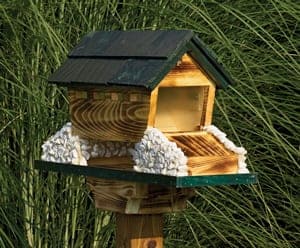 Covered Bridge Birdfeeder TO-2005
Measures: 11″x 28″x18″
Mounting: Includes 4×4 post bracket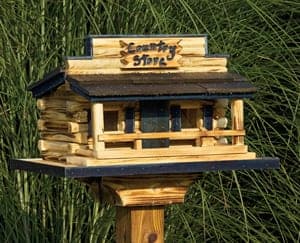 Country Store Birdfeeder TO-2010
Measures: 14″x 22″x17″
Mounting: Includes 4×4 post bracket