Poly Lighthouse Mailboxes
You expect to see lighthouses in coastal regions, but did you ever imagine seeing one at the end of your driveway? You will be delighted with one of our handcrafted Amish built Poly Lighthouse Mailboxes.   Each poly mailbox capturing the timeless magnificence of a lighthouse, the solar powered miniature lighthouse model that sits atop the mailbox is aesthetically captivating and charming. This is the perfect gift for that lighthouse enthusiast.
Our Poly Lighthouse Mailboxes are environmentally friendly and made from recycled material.  Choose from 20 different poly colors.  Each mailbox is topped with a unique aluminum diamond plate roof and a solor light in the tower. Our beautiful Poly Lumber lighthouse mailboxes will be a proud addition to any home or business.

Dimensions:  Length:  22″     Width: 11.75″     Height: 22″       Usually Ships in: 1-2 Weeks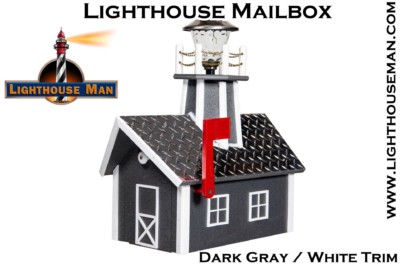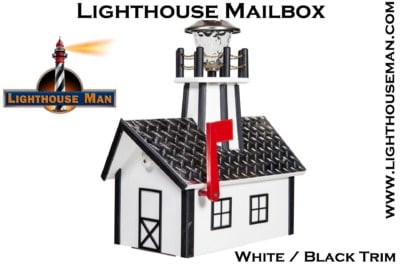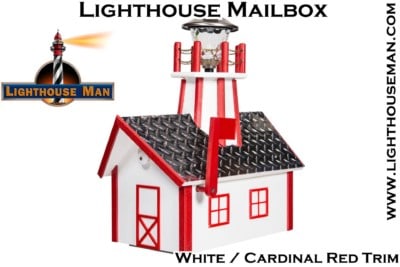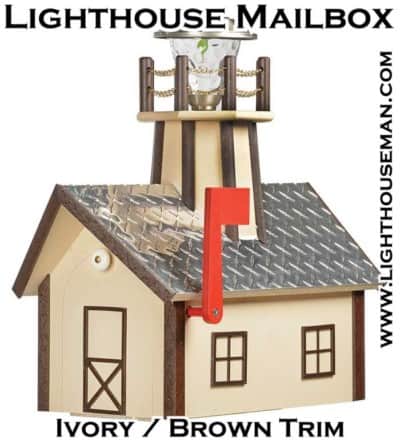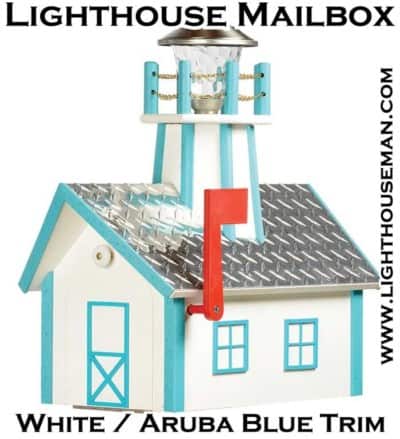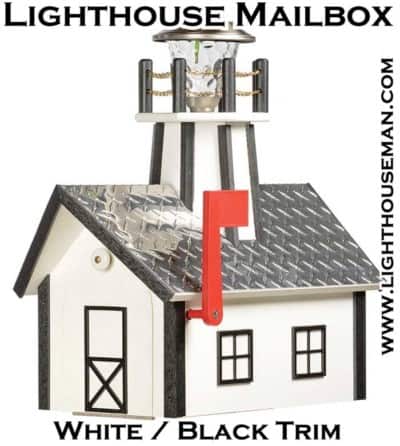 Why choose The Lighthouse Man?
Lighthouse Man is the LEADING manufacturer of custom crafted lawn lighthouses and lighthouse accessories.  We are widely recognized for our high-quality lighthouses and close attention to detail. Each Poly Mailbox replica features the following criteria:
Most Authentic looking lighthouse mailboxes on the market.
Made from Poly Lumber, will NEVER deteriorate!!!
Poly is Maintenance Free, will not crack, splinter, or delaminate
Stainless steel fastners and chain railing, (Will Not Rust)
All parts and pieces are cut out on CNC machines for 100% accuracy.
Comes standard with an LED solar light
No major assembly required.   We do everything for you!!!
Built in the USA, Handcraftted right here in PA.
Rest assured,  We service what we sell.
Replacement parts and repair services always available
20+ years of experience building custom crafted lighthouses.
What Is Poly?
Poly is a material made from recycled plastic products like milk jugs, water bottles, etc. and manufactured to look just like real lumber. You get the look of real wood without the upkeep. Not only do our poly mailbox lighthouses look just as good as our wooden lighthouses, but the choice of a man made poly lighthouse is also environmentally friendly.
Another added feature of our poly lighthouses is never worrying about splinters, cracking, or paint fading.  Color is embedded throughout the poly lumber, resulting in vibrant, lasting colors.  When you receive a poly lighthouse ornament from the Lighthouse Man, you get the highest quality weather-resistant product to last you a lifetime of enjoyment.
Poly is a 100% maintenance free product, built to last a lifetime! It will not splinter, crack, or fade and needs NO painting.  The color penetrates deeply throughout the product instead of just a surface coat, so scratches will not even show.
Poly lumber is made from recycled plastic milk jugs otherwise destined for a landfill. Using plastic lumber helps the environment and provides a long lasting, maintenance-free product.  Our poly is resistant to insects, termites, boring worms, microbe activities, and wet rot found in outdoor environments.
Poly will also never split, splinter, or rot like real wood.  It does not absorb moisture or promote bacterial or barnacle growth.  This weather proofing resistance is accomplished without any hazardous chemicals like those utilized in the pressure treated wood. Detailed laboratory testing proves there is NO leaching or release of chemicals into the soil or marine environments.
At The Lighthouse Man, we know that our customer love options.  Therefore, we manufacture several different models of the lighthouse mailboxes.  Check out these other options to find one that suits you best.