Nautical Wood Piling Pier Post
The recent flooding on the east coast has small towns in South Carolina scrambling for higher ground, but along the coastline are huge pier posts emerging from the flooding waters to welcome home the displaced.  Nautical pilings or bulkheads have an important job to do when it comes to water and mother nature.  Shipping docks, fishing docks, piers, etc., are all supported by monstrous pier posts that extend several feet below the surface of the water.
Wood pilings look like large telephone poles that are driven deep in the water and tethered together with heavy rope.  Once the dock pilings are placed, people are then able to build docks and ramps and attach them to the pier posts.  With the added support of other pilings  and heavy rope, simple boat docks can be changed over to larger shipping docks and longer fishing piers.
Check out our decorative nautical pilings or pier post today.  The Lighthouse Man has a large selection to choose from.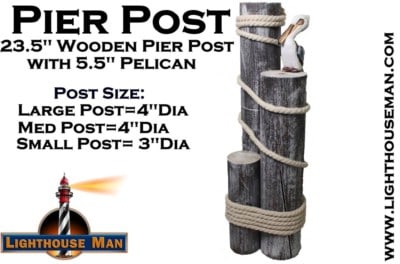 23.5″ set/3 Wooden Pier Post
This set of 3 Wooden Pilings looks very authentic and has a Pelican and fisherman's rope attached to them. They will add a nautical touch to whatever room they are placed in and are a must have for those who appreciate high quality nautical decor.
This makes a wonderful gift, impressive decoration and will be admired by all those who love the sea. 
Measures 23.5″H x 12″W  with a 5.5″ Pelican

Can be used for indoor or outdoor use,
If used outdoors we recommend applying a sealer coat for protection.