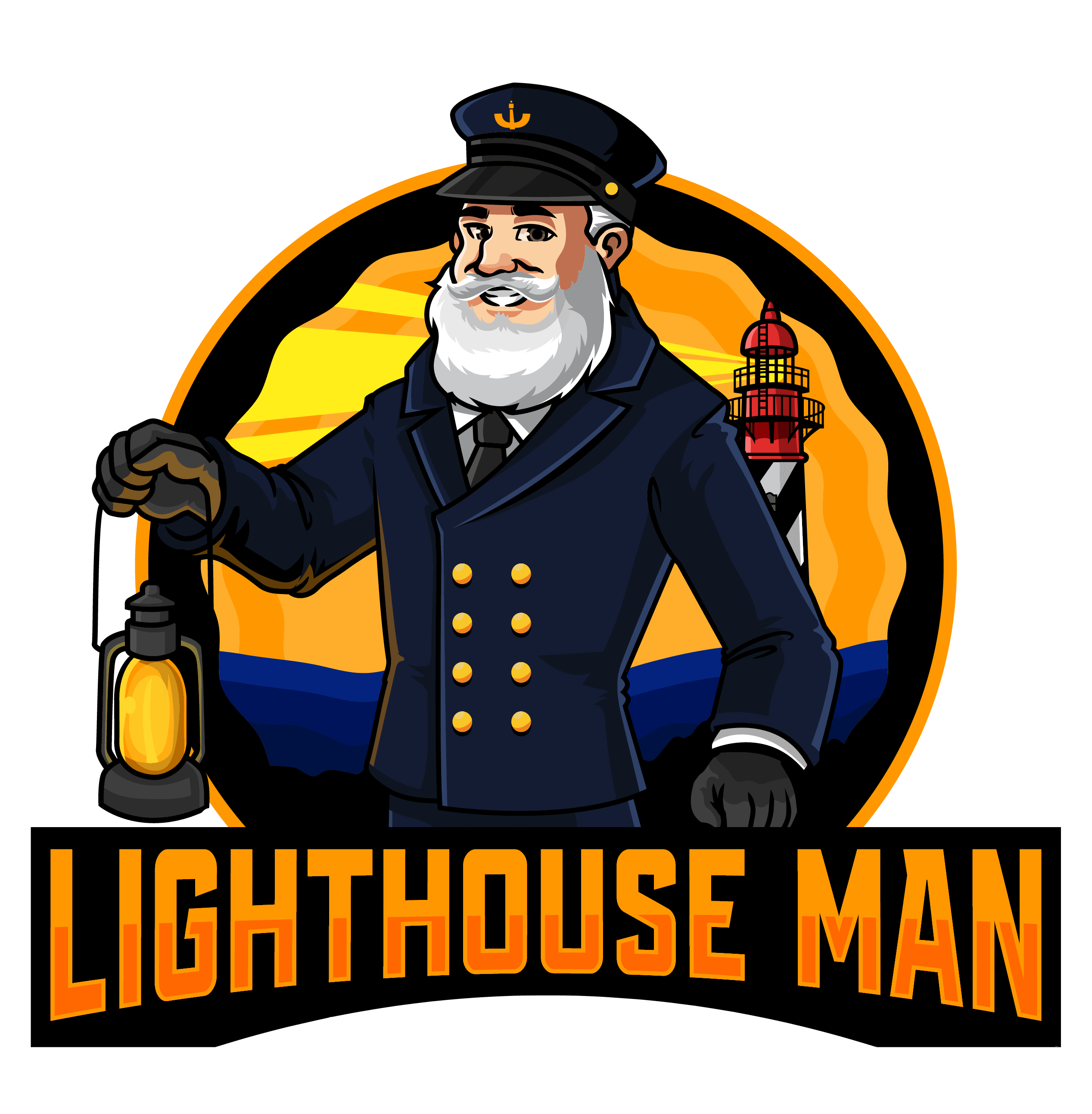 Testimonials
We want you to know what our customers know.  The Lighthouse Man manufactures the most authentic and beautiful Lawn Lighthouses and Lawn Ornaments available. 
We Want to earn your business by providing you with high quality products and give you our wonderful customer service.  Thank You, and God bless!!!  Kevin
Hey Lighthouse Man                                             **  Testimonials **
Just wanted to say thanks for the Lighthouse that I bought from you. My parents couldn't get over the gift. Mom especially liked the detailed windows and door. She couldn't wait to call my Aunt Jeanne and brag that I finally got her a gift that looked like I had given it some thought! Thanks again!!
Sam Patterson
---
Dear Kevin,                                                 **  Testimonials – Customer Feedback **
I am writing to you because I wanted to thank you for all the time you spent showing my parents around last week. My dad has always enjoyed lighthouse and I'm sure that is because he grew up off the coast of Maine. My mom told me how you personally took the time to show him different styles of lighthouses at your facility and even showed him the machine that cuts the foam. He couldn't stop talking about the day. I think they decided on the Cape Hatteras style and I must admit, the pictures have me awaiting the arrival of their lighthouse anxiously. It looks just like the real thing! I love the doors and windows, but I think the piece that caught my eye the most was the top. The black railing and cage that holds the light is absolutely beautiful!! I can't wait until it arrives and I can see the real thing!
Jennifer Davenport
---
Dear Lighthouse Man,                                               **  Testimonials **
I LOVE the lighthouse that I purchased from you!! I had my heart set on a specific design and although my budget isn't that of some people, you gave me options that helped me realize my dream of owning my very own lighthouse! The Barbershop striping is exactly as you described and the painted doors and windows are a perfect fit. I couldn't wait to unpack it when it arrived. I didn't think I would ever find it amongst all the packing peanuts, but I didn't have to fret about any damage either. I wanted you to know that I sat it in the corner of my family room and all my friends are saying how cute it is! I told them where I got it so you just might be getting some new orders very soon! Have a wonderful day and thanks again!!!
Liza Franks
---
Lighthouse Man,                                         **  Testimonials – Customer Feedback **
I wanted to thank you for all your help in my recent purchase of a Wishing Well. Since I was a little girl, I have been fascinated with the idea of tossing coins into the Wishing Well and making a wish come true. It wasn't until my first grandchild was born that I remembered that long ago fantasy and wanted to pass it along to Celia. I found your webpage immediately when I typed in Wishing Wells and found one that was exact replica of the one I had always pictured. Now Celia and I can spend hours around the wishing well tossing in pennies and making wishes.
Esther Eisley
---
Dear Kevin,                                                              **  Testimonials **
I'm not one to brag about things that I get, but I wanted to let you know that for the first time, I couldn't wait to tell my friends all about my new purchase. I'm retired and I have done well, so I like to spend money like nobody's business. At least this is what my wife keeps saying. I earned it so who cares?! I have a large yard that faces the river and decided I wanted something to spruce it up. A friend suggested maybe a lighthouse would look good and so I started searching the Internet and your page popped up. I decided that I wanted something large for the backyard and decided on the 8ft. Cape Hatteras. My son had to help me set it up and even he couldn't believe how authentic it looked. The detailed painting as well as the handcrafted windows with glass and curtains were so real. He just went on about how much he liked it. It is the hit of the neighborhood and even the fishing boats toot their horns when they go by.
Robert Showers
---
Dear Mr. Wagner,                                     **  Testimonials – Customer Feedback **
As a college student, it is very tough sometimes to find a gift for a parent that I can afford. My dad was looking on line a few months back and came across your web page. I was working on a paper for my English class and I stopped when he asked me to look at something that caught his eye. It's my dad, so I stopped and looked. He was pointing to a lighthouse that was white with black painted windows. It was definitely eye-catching. Christmas was coming and so I noted the page as an afterthought and finished my paper. Later that night, I was scrolling through the Internet and decided to look up the page that my dad was checking out. I found the lighthouse and the price. This was probably the best Christmas that my dad and I have had in a long time and it was all because of your lighthouse. The look on his face when he opened the box was AWESOME!! I think I even saw my mom tear up a bit. I guess next year I better find something she likes just as much.
Scott Carlson
---
Lighthouse Man,                                                  **  Testimonials **
I ordered a lighthouse from you for my daughter and had it delivered to her house in Connecticut as a surprise. She wasn't home when they attempted to deliver it and so they left a note and she called them as soon as she returned. They delivered it later that afternoon. She called me immediately almost squealing. She couldn't stop talking about how pretty and real it looked. She loved the top especially with the details. She said that the pieces underneath the wood made it stand out and the double railing made her wish she had a real one to walk around. I wanted to thank you for giving me the opportunity to surprise my little girl for her 40th birthday!
Susan Williams
---
Mr. Wagner,                                    **  Testimonials – Customer Feedback **
I am writing to say thank you for the Custom built Row Boat Shelf that I bought for my husband last month. My husband is a huge fisherman and so I am inundated monthly with the latest fishing magazines which always seem to land on the floor beside his favorite easy chair. Now we can put them on the Row Boat shelf which has been conveniently placed beside his favorite chair.
Katherine Adams
---
Dear Kevin,                                                       **  Testimonials **
My wife likes lighthouses and I swear every time we stumble on something at these antique shops that has anything to do with lighthouses, we have to stop and most times purchase. I can't tell you how crazy it makes me. Last month, we decided to pick up and take a roadtrip which we haven't done since the kids left home. We decided to scout out some of the local places in hopes of finding some more lighthouse paraphernalia when your website popped up. I pointed out that you were only about an hour from where we were and called to set up a visit. My wife was beside herself when we arrived and she saw all the lighthouses you had in stock. Her favorite actually turned out to be the one that I liked as well. So thank you for the beautiful stone lighthouse and base that we ordered for our backyard. We are patiently waiting for its arrival.
Albert Reynolds
---
Dear Lighthouse Man,                      **  Testimonials – Customer Feedback **
Writing to say thanks for the E-Line lighthouse that I bought from you. I really liked the colors and the painted windows and door. The lines are very crisp and clean looking. The details are superb. I can't wait to put it in the screened in porch. I was a bit worried about the shipping, but it was packed with so many peanuts, I don't think it even shifted in the box until I opened it.
Sara Cox
---
Dear Kevin Wagner,                                      **  Testimonials **
My wife and I would like to thank you for all the time and effort that you and your staff put into the building of our new lighthouse. I have always enjoyed travelling the different states looking at all the lighthouse that I can and I finally decided to purchase one that I can look at every day. My wife and I began searching on-line for lighthouses and your site came up immediately. We were highly impressed with the deluxe models and so we focused our attention on the details of the deluxe model. We really liked the American model with the stars and American Flags in the windows. The blue top with the white accent pieces sets it off beautifully. We are even happier that we spent the extra money and did the LED windows. When it is lit, the lighthouse adds a soft glow to the room. Thanks again for all your help and thanks to your staff for the hard work on the details. Cudos to you!!
Frank Sutoon
---
Kevin,                                                   **  Testimonials – Customer Feedback **  
Buying anything for my dad is always a huge risk. I think I can count on one hand the number of things that I have purchased over the years that he has actually liked or used. So this past Father's Day, I purchased one of your Deluxe Lighthouses hoping that he would enjoy it. My thought really was that if he didn't like it…It would look good in MY backyard! It was shipped directly to my parents' house. They were out of town so my husband and I along with our two boys found the perfect spot to anchor it out back. My parents arrived home from visiting my brother the next afternoon and were shocked to see the lighthouse. I had left a card on the kitchen table wishing my dad a Happy Father's Day and I hoped he enjoy his gift. The Lighthouse is still anchored in my parent's backyard and he tells me how much his friends like his gift. Truly grateful!
Victoria Johnson
---
Kevin Wagner,                                                 **  Testimonials **
I bought a large wooden windmill for my daughter's great grandma last year. I remember when my husband and I were dating, he happened to mention how much his grandma loved windmills. After we were married, I can remember visiting her and she would talk about how she loved them. Her stories often reflected to an earlier time in her life when she was a young girl. She blushed the day she walked out to her back porch and saw the large Wooden Windmill with the large paddles rotating in the wind.
Thanks for the memory,
Dana Carl
---
Dear Mr. Wagner,                             **  Testimonials – Customer Feedback **       
Our school was celebrating a mile stone and we were looking for something that would stand out to commemorate the day. Our Superintendant took it upon himself to find the perfect gift. After searching the Internet, he came across your website and custom built lighthouses. The area of dedication was not small and so he chose a large Lighthouse. He was excited that you would custom paint our school logo as well as match the school colors for the stripe and so with a little persuasion, he convinced the board that this was the way to go. Like most lighthouses, this one stands as a beacon of hope for those students entering our school and the parents who entrust those students to our school. The Lighthouse is very real and authentic with the lights shining through the windows. It arrived safely and on time for the unveiling. So thank you for your time and hard work.
Sincerely,
Stephen Anderson
---
Lighthouse Man,                                                 **  Testimonials **
I wanted to say thank you for the recent purchase of an E-Line Lighthouse. As much as I loved the added details of the Deluxe Style, it was not in my price range. I do like the model that I ordered. The painted on doors and windows give it an authentic look that I can enjoy as well. It sits beside my recliner and its soft glow mellows my evenings after a long and stressful day at work. Keep doing what you do and maybe I can save up enough for the deluxe edition with the LED lighting system and Custom crafted top.
Maggie Newland
---
Lighthouse Man,                                                 **  Testimonials **
I was looking for a gift for my wife. Our 5th anniversary was approaching and I just was at a loss on the gift. I tried the Internet and used key words that she likes. I hadn't really thought about a theme until the words I typed into Google, brought up Dutch and Netherlands. Our compact yard area out back and around the front of the house is littered with Garden Gnomes, those little things that give you nightmares in the dark. My wife loves them! I don't give them a second thought until your website popped up with the windmills. It must be a sign from God that Jennifer wants a wooden windmill to go with her garden gnomes for our 5th anniversary. Thanks for helping a struggling husband with his anniversary shopping!
Mark Shelton
---
Lighthouse Man,                                                 **  Testimonials **
Wanted to thank you for the help in finding something to cover up the well cap in my front yard. I have always prided myself on making my yard look nice. I keep it cut and cleared of leaves, but we recently moved into a larger home and a larger yard that had a few flaws. The overgrown bushes and dying apple trees were not a problem that a little extra hard work couldn't fix, but the well cap that was positioned almost 10 feet to the left of the front door was a problem I could easily counter. The Wishing Well that you suggested was the perfect solution. It fits nicely over the well cap and provides an added piece of beauty to the front yard. Thanks again for the help.
Beau Smith
---
Kevin,                                                                    **  Testimonials **
We have our wonderfully crafted lighthouse sitting on our patio and we could not be more happy. We originally saw your beautiful lighthouses on WNEP News Watch 16 and also on the television show Home and Back Yard and just fell in love with them. Then after talking with you on the phone and visiting your wonderful shop we knew we could not go wrong. Your a delightful young man, and it was a pleasure working with you. Please feel free to add our comments to your web site.
Maura & Clarence Henderson
---
Dear Kevin,                                                            **  Testimonials **
There are few letters I have been inspired to write that give me more joy than this one, which expresses my feelings to you with regard to the 20' Cape Hatteras lighthouse replica you custom crafted for my family. This lighthouse is more than a lawn ornament to me, it is a monument to a deceased loved one. Given the great significance of the project, I felt it prudent to do some careful research of all my options beforehand, so as not to make any mistakes or wind up with any regrets. I am very happy to say that my search led me directly to you at Kevin's Custom Crafts! From the moment we first spoke, I knew for certain that I was in contact with the person and the company that would meet all of my expectations in this regard. Well, my friend, it is with great pride I can say that you exceeded each and every one of my expectations, across the board!!! The lighthouse itself is a work of art, true to the original Cape Hatteras Light in every respect. To me, it is easily worth every penny I paid for it and is, without a doubt, one of the most "feel-good" purchases I have ever made in my life! Through your "artful magic", we now own a great lighthouse, that all by itself is the best decoration to be seen! It is admired by all who come to our home. Even more importantly, I feel other people should know that your true dedication, care and "heart" was so obviously and indelibly in this project right from the very beginning – and it shows so beautifully in the final product. I am very content to say that this masterfully-crafted lighthouse is easily the best of it's kind anywhere and at any price!! The best thing of all is that I had the opportunity to make a new friend who is both honorable and talented– one who certainly treated me with an uncommon level of respect that goes way beyond the norm. I would most gladly be a reference for you any day of the week and highly recommend you to others who would seek the finest work. You have earned my family's heartfelt thanks for your efforts. Excellent job Kevin!
Sincerely,
James Gregory and family
---
HI KEVIN!                                                             **  Testimonials **
Thanks so much — The lighthouse arrived an hour ago, and my mother is so excited she's wading through all that fine packaging as fast as she can to get to it! I can feel good about having purchased the best from you & not trying to save a buck on a cheaper assembly. when I think back later to this moment of joy for her. Lastly I want to thank you for doing your best to get it out by her birthday. We truly appreciate your efforts. Keep up the good work! You got another happy customer.
Rosemary Cantali
---
Dear Kevin,                                                            **  Testimonials **
We received the Patriot lighthouse last Tuesday. It is unbelievable. What a work of art. Mom is thrilled (beyond thrilled). As soon as it was delivered she took it out of the box and set it up in the livingroom. Revolving beacon and all. It rained all week but as soon as we can pour some cement and set it up on the lake I'll take a picture so you can see your lighthouse in it's new home. Keep up the great work. I will definitely be giving people your number.
Thanks again.
Christine DiGaetano