Lawn Lighthouse Fresnel Lens
Remember those movies that have the Lighthouse standing tall out in the ocean. These were designed as a means of providing light and safety to our sailors. The lighthouse alerts the sailors to shallow water, the shoreline, dangerous rock formations, and even other ships or boats close to them. Due to the safety implications, it was very important that the Lighthouse have a strong and vibrant light to reflect through fog or great distances. The light from the lighthouse also needed to last a long time because there wasn't always someone available to keep watch 24/7. Our Lawn Lighthouse Fresnel Lens is designed off of that initial light and rather than rotating, it shoots the light through the center of the light shaft for the strongest possible beam of light.
Color Changing Fresnel Lens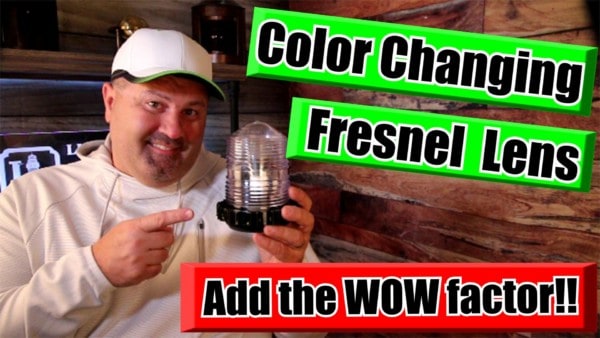 Click on picture above to watch Video
Color Changing Fresnel Lens:   Add the WOW factor to your lawn or garden lighthouse with our Color Changing Fresnel Lens. The days of boring, dual and drab lighting is over. Now with innovative color changing LED technology you can spice up your yard lighthouse. This amazing Fresnel Lens provides you with 12 different color choices that you will definitely love. This LED lighthouse light not only changes colors but it also has several different smart technology features as well. For example this fresnel lens has 4 levels of brightness so you can make it as dim as you want or as bright as you would like with the touch of a button. It also feeatures a smooth fade affect and then a faster paced mode called the flash mode. This remote control color changing fresnel lens not only works in all of our lighthouses but they will also work in any other lawn or garden lighthouse on the market as well. Again this lighthouse light places an entire raiinbow of colors at your fingertips. Use the remote control to adjust colors to fit the season or simply your mood. Or you can sit back and enjoy the adjustable pace of automatic color changing technology.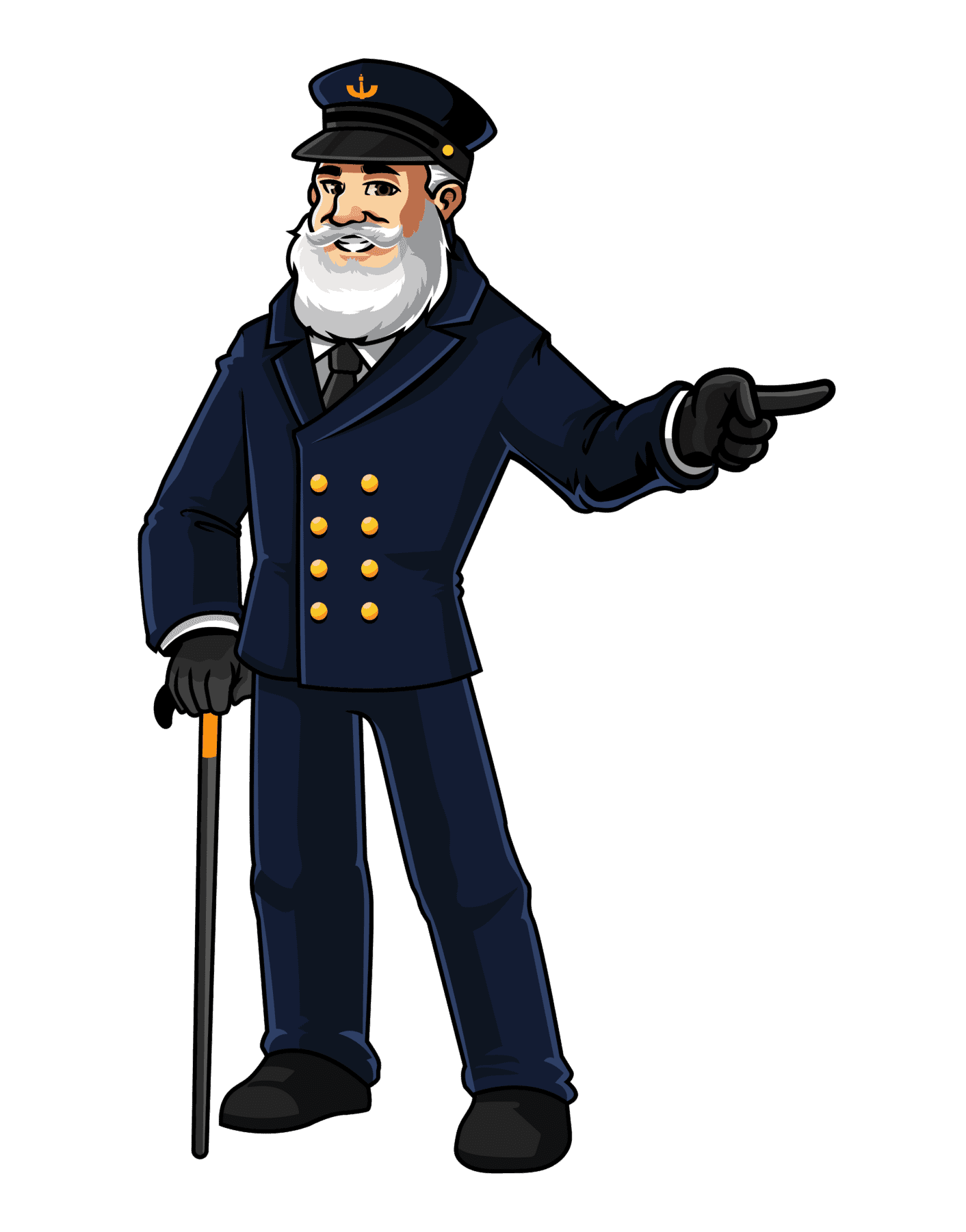 Replacement Color Changing Bulb with Remote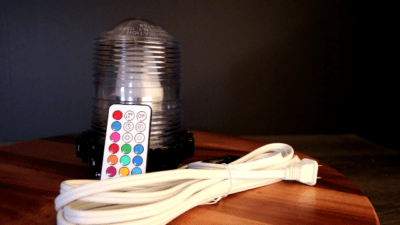 Optional Wired Color Changing Fresnel Lens:  we do realize that some of our customers are not comfortable working with electric, let alone connecting wires or installing the Fresnel lens themselves.   Well no worries here at the Lighthouse Man we have you covered.  Now you can purchase any of our Electric Fresnel Lenses totally 100% wired for you!!!  With this optional package you will get the following: 1) Is of course the Fresnel Lens that you ordered, and 2) is 15′ of exterior grade wire and plug fully installed so all you have to do is plug it into your receptacle.
Optional Electrical Package:  Totally 100% wired for you!!!
Lawn Lighthouse Fresnel Lens
Electric Fresnel Lens:  The Lighthouse Man, now offers the first lawn lighthouse Fresnel Lens.  That is correct this is an actual real fresnel lens that projects the light in the same manor  as a real lighthouse does.  This light does not revolve. This is for the customer that wants an authentic decorative light instead of a common light bulb for their lighting option. If your interested in a revolving light then you can choose from one of our many Lawn Lighthouse Revolving Beacons.
This Stationary lawn lighthouse Fresnel lens lens features an 8000 hour, 40 watt electric traffic light bulb with a diode to double the life expectancy.  (This is the same light bulb they use in traffic lights before LED bulbs) This light was designed by the Lighthouse Man and is built to fit inside any lighthouse on the market.   This lens really adds a beautiful look to any lighthouse.
Blinker
Want a Flashing Fresnel Lens ???   Well now you can have it…
Simply add our "Blinker" to your Fresnel Lens and you will have a flashing Beacon !!!
"BLINKER": The Lighthouse Man now offers an outlet plug in adapter that will turn any light into a flashing beacon.   This outlet blinker plugs into any standard AC outlet, then simply plug in your lighthouse into our Blinker and bam you have a flashing beacon.  The Blinker flashes approximately 14-20 times/minute.   This Blinker is UL listed for both the US and Canada.
The Blinker is also ideal for Lawn and Garden Lighthouses but it can also be used for Christmas Lights, Lamps, lighting fixtures, or any light that you want to "Blink"…
Rating: 15A -100W; 110-125V. 14 to 20 flashes per minute. Polarized.
How our "Blinker" works:  The Blinker simply calibrates the electricity coming into the unit and acts like a light switch that simply turns your light on and off.   Thus this is "VERY IMPORTANT" the Blinker should NEVER be used in conjunction with a timer, remote, or motion sensor as these unit are also instructing  the light to perform a function as well.   Therefore with the addition of a Blinker you will be causing a conflict as you will now have two separate units giving conflicting commands.  If you do this you WILL burn out the Blinker in seconds.  The blinker should also not be used with revolving beacons or LED Windows as these are all on the same power supply.  Thus, everything that is on this power supply line will blink.
Operation Side:  Please Note: When you first plug in the "Blinker" it will take approximately 10-30 seconds for the Blinker to calibrate before it will start to blink.   It may also take several seconds to a minute before the Blinker will start to blink in a steady pattern.  The blinking pattern can and will vary from 14-20 times per minute.
Weatherproof Electrical Outlet:   The Blinker is rated for outdoor use but like any exterior electrical accessory the Blinker MUST be covered and protected from the elements with a weatherproof receptacle cover.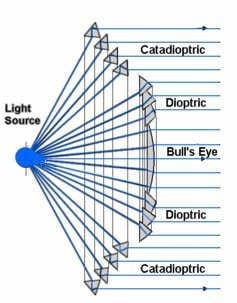 This diagram shows how the lawn lighthouse Fresnel lens works. The purpose of the lens is to adjust, alter, bend, and focus the light rays from the source and form a concentrated beam of light.  The Fresnel lens, developed in 1822 by Augustine Fresnel, was the most magnificent lighthouse lens ever made. It was used in many of the world's most famous lighthouses. These awe-inspiring glass marvels fascinate both those with a casual interest as well as the serious lighthouse buff. The beauty of the Fresnel lens has been captured in this model, which will make a great addition to any lawn or garden lighthouse.