Wooden Lighthouse Replacement Tops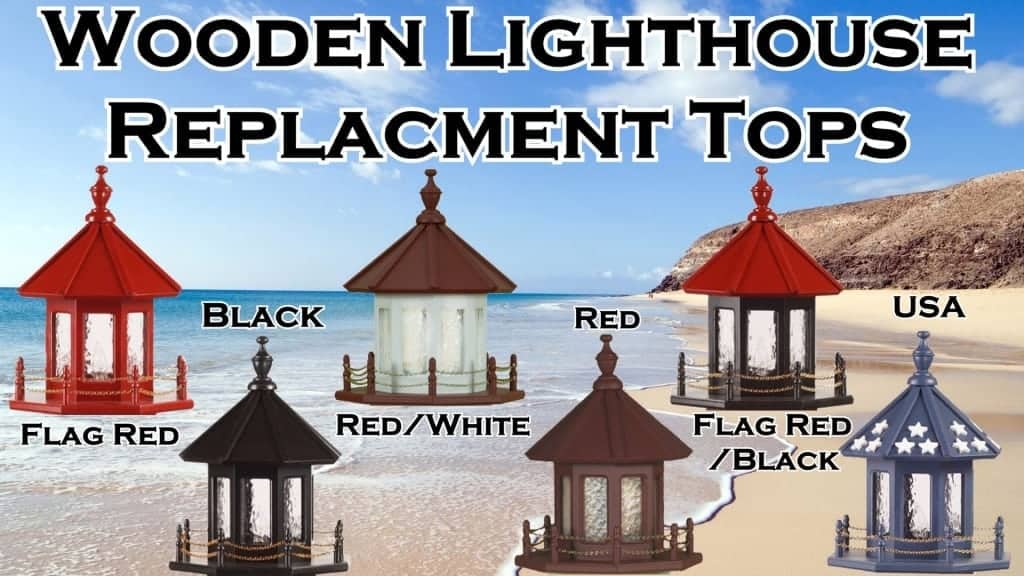 Wooden Lighthouse Replacement Tops: This includes the entire top assembly.  From the bottom catwalk with the railing and chain to the roof peak.  Our wooden lighthouse tops are octagon in shape and are handcrafted from 9 ply exterior signboard. Each wooded lighthouse top is built to endure all types of weather conditions and is painted with exterior paints.  Please note these tops are designed and made for our wooden lighthouses. We cannot guarantee these will fit perfectly on other manufactured lighthouses.
Please Note: When we say below that this is a 4′ replacment top that does not mean that this top is 4′ high.  That simply means that this is a replacement top for our 4′ wooden Lighthouse.  Measurements of each top is shown below.
The Lighthouse Man is the LEADING Manufacturer of Custom Crafted Lawn Lighthouses and Lighthouse Accessories.   Please note: we are the only manufacturer that sells replacment parts for your lawn and garden lighthouses.  Others do not becasue they want you to purchase a brand new lighthouse.   We believe in servicing our customers and we will always sell replacement parts for all of our ornamental lighthouse replicas guaranteed.
Approx. Delivery Time 2-4 Weeks
2 Foot Top Measures Approx. 12.50″ High x 8.75″ Wide
3 Foot Top Measures Approx. 15″ High x 12.00″ Wide
4 Foot Top Measures Approx. 19″ High x 14.50″ Wide
5 Foot Top Measures Approx. 19″ High x 14.50″ Wide
6 Foot Top Measures Approx. 21″ High x 17.00″ Wide
8 Foot Top Measures Approx. 30″ High x 22.00″ Wide
12 Foot Top Measures Approx. 36″ High x 26.00″ Wide