Poly Lumber Surfboard Table and Chair Set

Surf's Up! 🌅   Our Poly lumber Surfboard Table and Chair Set comes with 4 chairs and is the perfect addition to your home's nautical decor!  Not just for the balcony this amazing set is great for the dock, in the yard, or on the porch.  These poly resin surfboard tables will provide the perfect place to sit, relax and enjoys time with your friends and family. Surfboard table features a skeg (fin), umbrella receptacles and 2 storage areas underneath. Chairs feature durable footrest and contoured seat and back rest for ultimate comfort. ⛱️
Built for comfort and constructed with high density poly resin. Poly wood is a wood lumber substitute made from recycled materials that will not fade, chip, crack, rot, or develop mold. This means 100% maintenance free! All hardware is made of stainless steel and all mechanisms are made and built right her is Pennsylvania. You can be sure that you will get many years of relaxation from a Lighthouse Man Surfboard Table and Chair Set! 🌟
Table: 72″Lx40″Hx24″W
Each chair measures: 40″Hx20″Dx20″D
Free Shipping – Easy minor 5 minute assembly – Instructions provided.
RELAX, Weatherproof, Maintenance Free and Environmentally friendly 🏝️
Easy 2 Step Ordering 👍
Select your Main Color. 

The Main Color on the table is the Large Middle Stripe of the Surf Board and the Seat and Back Rest of the Chairs.

Select Your Trim  Color. 

The Trim Color on the Table is the outer edge stripes and the legs of the Surfboard table and chairs.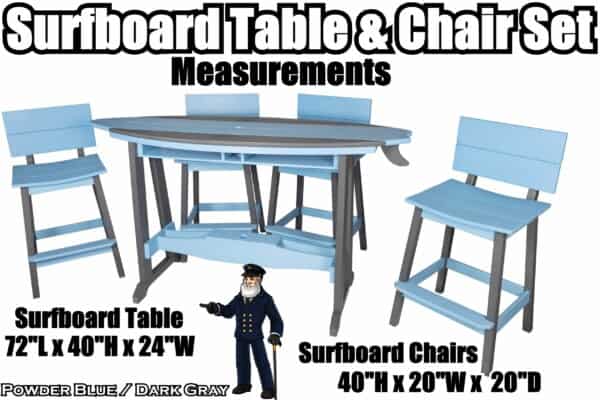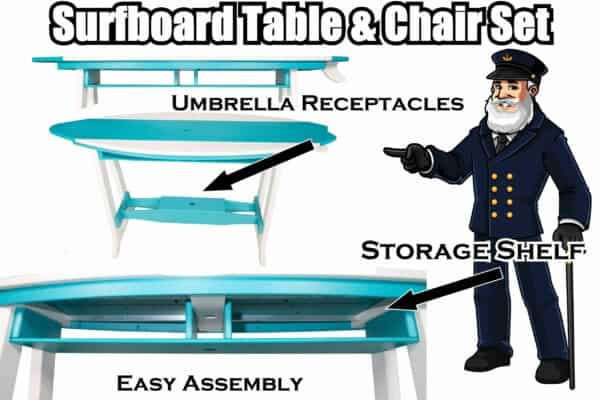 Here are some of our Best Sellers 🔥🔥🔥
Surfboard Bar Tables & Chair Set 

"FREE Shipping and Handling"
👉Click on ANY Picture to Enlarge👈
👉Please Read: If you order a woodgrain color and a regular color you will have a table top that has a woodgrain texture and a smooth texture. If that isnt desirable to you, you need to order 2 woodgrain colors or 2 non-woodgrain colors so the table top has the same texture.
What Is Poly Lumber?
Poly Lumber is made from recycled plastic products like milk jugs, water bottles, etc. that are manufactured to look just like real lumber, therefore you get the look of real wood without the need to care for its upkeep.   Not only do our poly wood tables look just as good as our wooden windmills, but by going with a man made poly lumber you are helping to save the environment.
Another added feature is that by going with our polywood products you will never have to worry about splinters, cracking, or paint fading over time.  This is due to the color being embedded throughout the polywood, which results in life-long lasting colors.  We here at the Lighthouse Man assure you that when you receive a Polywood table from us, you will get the highest quality weather-resistant product that will last you a lifetime of enjoyment.
Why is Poly Lumber Better

?
Why is poly lumber better you may be asking?   Becasue, it is totally a maintenance free product, that is built to last a lifetime!  It will not splinter, crack, or fade and needs NO painting.   In Addition, the color is also all the way through the product so if it gets scratched it's not a big deal as the color is not just on the surface only.
Poly Lumber is made from recycled plastic milk jugs otherwise destined for a landfill. Thus when using plastic lumber, you are helping the environment as well as utilizing a long lasting, maintenance-free product.  Our Polywood is resistant to all insects, termites, boring worms, microbe activities, and wet rot found in outdoor environments.
Polywood will also never split, splinter, or rot like real wood.  It does not absorb moisture or promote bacterial or barnacle growth.  This weather proofing resistance is accomplished without any hazardous chemicals as those utilized in the pressure treated wood.   In fact there are detailed laboratory testing proving that there is NO leaching or release of chemicals into the soil or marine environments.
Poly Wood Surfboard Table & Chair Set Lead Time
Add a touch of nautical charm with this handcrafted Amish Poly Wood Surfboard table.  Constructed right here in PA.  They are constructed from Poly Wood and come with your choice of colors.
Lead Time: 2 to 5 weeks.   *Lead times do not include shipping
Please note:
Every Surfboard Table and Chair Set will be shipped via Motor Freight on a skid and shrink wrapped.
Please follow the motor freight instructions on our
policy page
, under the tab Motor Freight  Shipping Information.