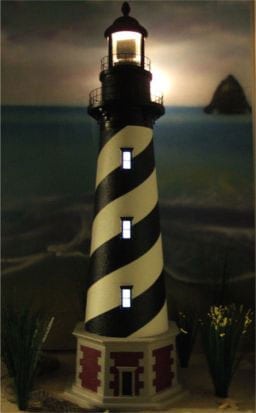 Light Up Windows
Electric LED Light Up Windows: Our LED Light Up Windows accessory project a soft warm glow through each custom crafted window. Light Emitting Diodes or "LED's" are widely used in the lighting industry due to its unique advantage in low energy consumption and low surface temperature, LED's are one of the safest decorative lighting products on the market. Advantage of our LED light up windows: Low Heat, Low Voltage, Economical – Lamp life 50,000 hours or more!!! Please note this feature is for our Deluxe lighthouses only.
If you are DIY building your own lighthouse you can order our Light Up Windows accessory but please note you will receive the LED lighting only with this feature does not include the custom crafted windows. The Custom Crafted Windows can be purchased here or simply follow our drop down menu to the left. This feature is also only available for Electric lighthouses only, these do not run on solar power.
4'& 5′ Custom Lighthouses only: $ 70.00
8'& 12′ Custom Lighthouses Only: $100.00
Economy Solar Beacon with LED Light-Up Windows
Economy Solar Beacon With LED Light-Up Windows: The Lighthouse Man has done it again by bringing to market the FIRST EVER Solar Powered LED Light-Up window package for lawn and garden lighthouses.  In the past if our customer wanted LED Light-Up Windows then they had to go with electric to power their lighthouse.  Well again not anymore due to our Economy Solar Light with LED Light-Up window package.  Now you not only can you light up the top of your lighthouse but you can light up all of your custom windows as well.
This package comes with an 8″ x 8″ high efficiency Solar Panel with a manual on/off switch on the back side of the panel.  Our solar panel also contains fast charging technology and has a built in photo cell.  Which automatically turns on the light at dusk and off at dawn.   Our solar panel can be either mounted to a wall, a fence post,  or it also comes with a garden stake attachment for easy yard placement.  Each unit is equipped with 14′ of exterior grade wire and a universal 3″x 3″ mounting socket with a super bright long Life 50,000 hour LED bulb.  We have also designed the light so it can operate for approximately 8 hours between charging cycles.   As you can see this throws off a very nice bright white light that is sure to light up any lawn or garden lighthouse.   Now as I alluded to before the other dedicated line is for the LED Light-Up windows.  This exterior grade LED Light strip is 3′ in length and is a bright White strand that will run up through the core of the Lighthouse and illuminate all of the windows in any of our Deluxe Stucco Lighthouses.  This line also comes with 14′ of exterior grade wire that plugs into the Solar panel as well.
Now again this accessory was designed for our Deluxe Stucco Lighthouses but you can use this accessory on ANY lighthouse that has real windows that can be lit from behind.