Stone Lighthouse Yard Ornaments
We at the Lighthouse Man are excited to offer our newest line of Sone Lighthouse Yard Ornaments!  Brighten your landscape with our lawn and garden  Amish handcrafted stone lighthouse ornaments and enjoy the beauty of a nautical accent in your yard. Our Stone Lighthouses are handcrafted from a natural field stone hand-picked right here from our PA Farm. 
🔥 FREE Shipping and Handling 🔥
Each Stone Lighthouse Yard Ornament features a decorative detailed poly top assembly.    Making all of our stone lawn lighthouses virtually impervious to whatever harsh elements comes its way.   
These eye catching stone yard lighthouses are sure to bring a welcoming presence to your lawn or garden.  Each stone lighthouses also come with interior lighting in the tower.  Choose from a variety of custom poly colors for your lighthouse top.  Please e-mail us at lightkeeper@lighthouseman.com to get shipping quotes for these lighthouses. 
Available in 5  different sizes, and 20 Custom Color Tops
Approximate Weight
4′ Stone Lighthouse: 150lbs 
5′ Stone Lighthouse:  180lbs
6′ Stone Lighthouse: 275lbs
8′ Stone Lighthouse: 1300lbs
12′ Stone Lighthouse:  2200lbs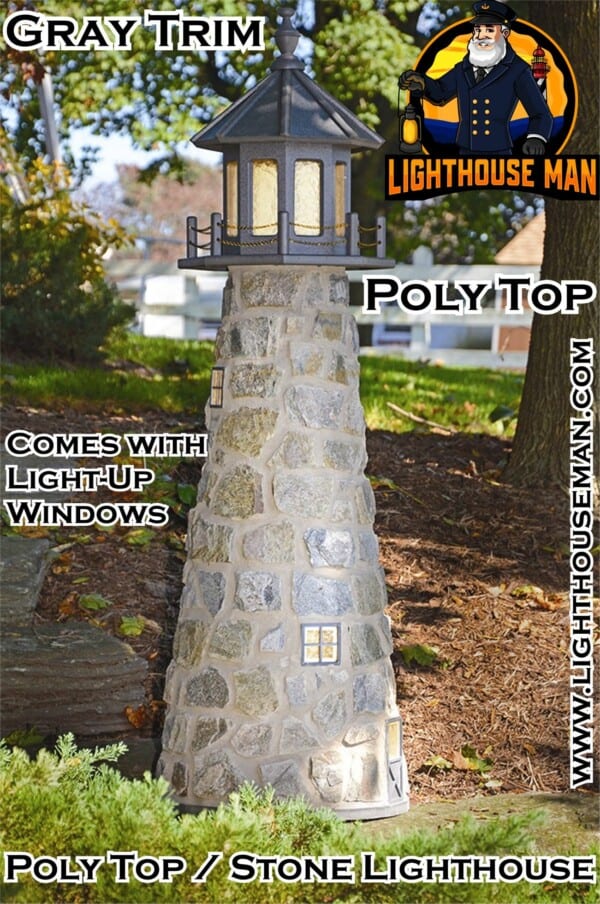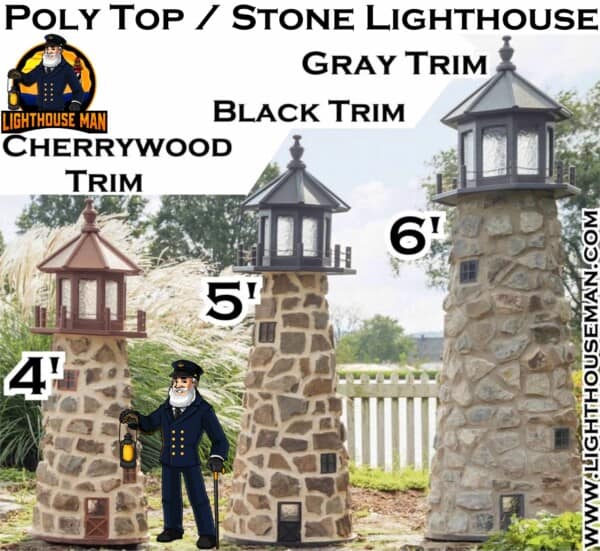 Natural stone also ages beautifully giving each of our Stone Lighthouses its own look over time. Unlike other stone or rock lighthouses, we at Lighthouse Man bring you truly unique works of character and art for a stunning creation that will last you many years.
Our Stone Lawn Lighthouses are ideal for pond settings, pool side décor, as garden center pieces, or your own custom backyard oasis conversation piece. You will not find a more stunning custom crafted stone lawn lighthouse on the market!
20 Poly Top Housing Color Options
🔥 FREE Shipping and Handling 🔥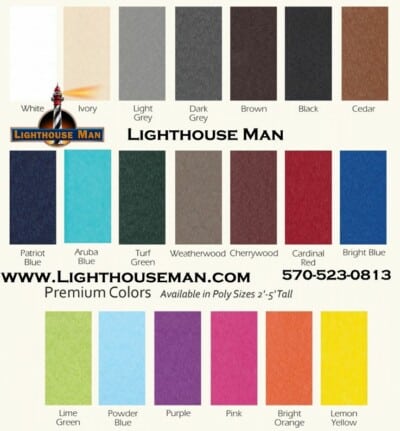 Economy Stone Yard and Garden Lighthouses
🔥 FREE Shipping and Handling 🔥
🔥 FREE Shipping and Handling 🔥
Please email: lightkeeper@lighthouseman.com
for a Shipping Quote for all 12′ Stone Lighthouses.  Please provide your FULL shiping address.
Stone Lighthouse Construction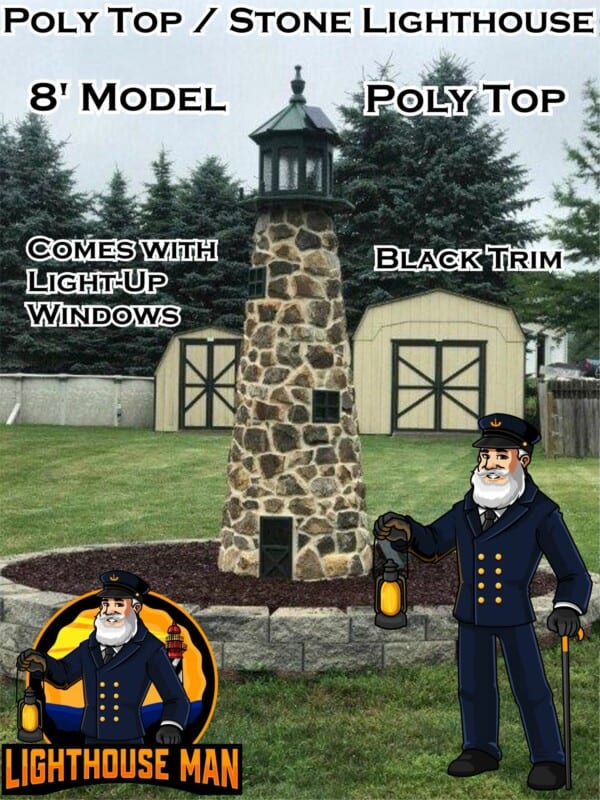 Our economy or Poly Top Stone Lighthouse Yard Ornaments are undoubtedly some of the finest stone lawn and garden lighthouse on the market today.  Each Stone lighthouse is meticulously handcrafted from field stone and masonry over a poly core.  Each stone is carefully applied one at a time.  Because of this special painstaking technique , you are guaranteed a truly "one-of-a-kind" stone lighthouse.
Once the stone is fastened to the core we then use a type S mortar, and grout between each individual stone making a smooth beautiful transition from one stone to another.  This completely ties the entire lighthouse together and makes it look absolutely stunning.
Our signature line of lawn and garden stone lighthouses are meticulously detailed with lighted plastic windows and doors.  For durability and detail, nothing can match our Stone yard and garden Lighthouses, exclusively at the Lighthouse Man.
Stone Lighthouse Shipping Details
Our Stone Lawn Lighthouses are Shipped via Motor Freight due to the size and weight of the item. We offer a standard blanket shipping price for our 4′ and 5′ models.   This price includes packing shipping and insurance. Please note: Each stone lighthouse will be shrunk wrapped and then wrapped in a heavy duty plastic.  Then each lighthouse will be shipped in a specially made crate for shipping safety.
Please follow and read our motor freight instructions on our policy page.  https://www.lighthouseman.com/policies/  under the tab Motor Freight  Shipping Information. 

At The Lighthouse Man, we know that our customer love options.  Therefore, we manufacture two different models of stone lighthouses. Check out these other options to find one that suits you best.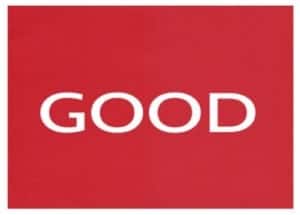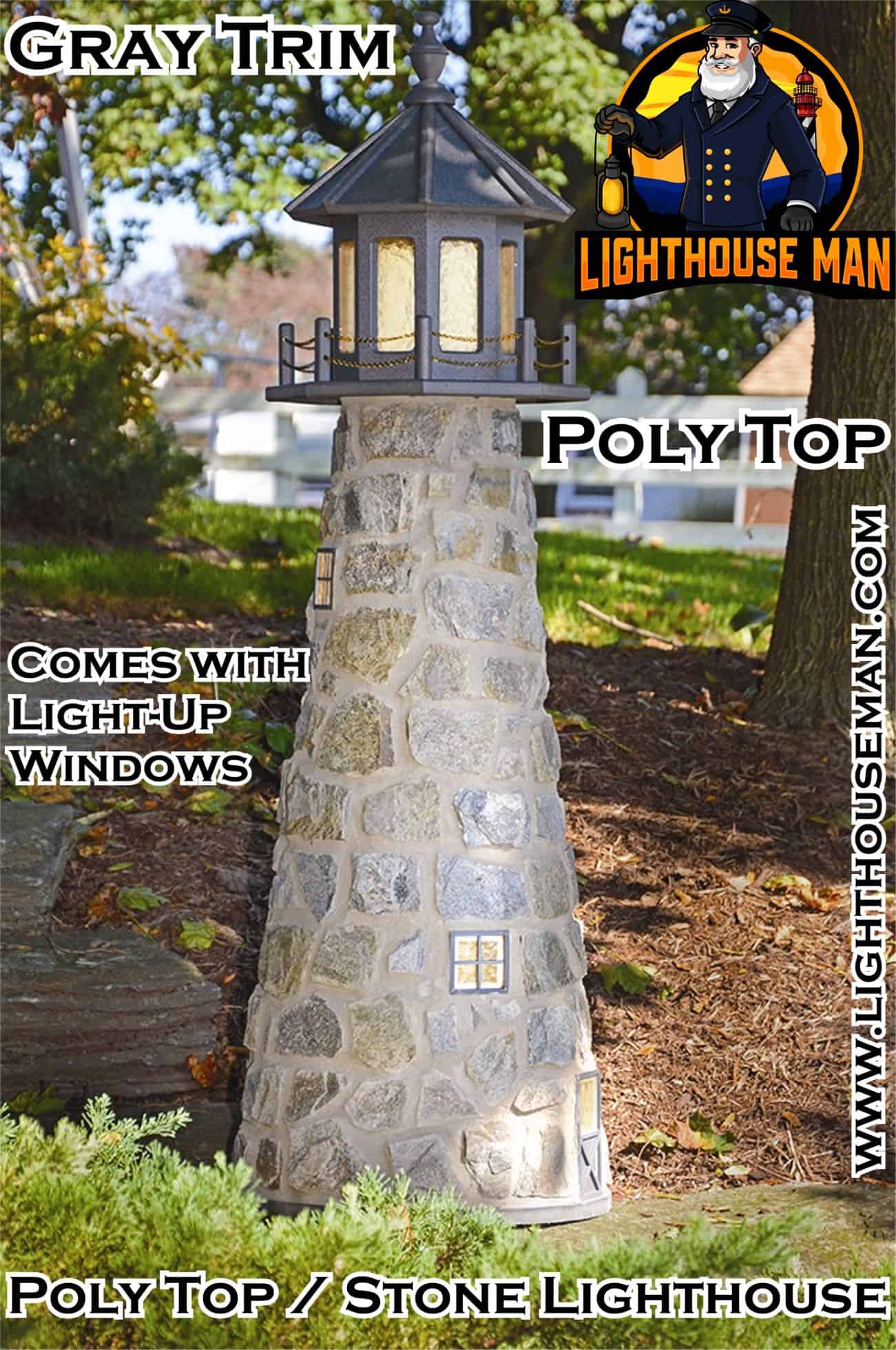 Stone Lighthouse Yard Ornaments