Give you backyard or patio that nautical touch with our decorative Lawn and Garden Ornamental Buoys.  Each Lighthouse Man yard Buoy is made from durable maintenanc free Fiberglass and PVC.  These outdoor Ornamental Buoys are the perfect nautical decoration.  Place it next to your garden, pond, boat dock,  or use it as a stand alone yard ornament. 
The base is made of fiberglass for strength and durability, and the tower is constructed from PVC, so it will not warp, crack or rust even in harsh weather conditions.  Our Buoys come with two (2) eight inch powder coated anchors to secure the buoy in place for heavy winds and or theft.  Each Buoy comes with a solar light that gives a beautiful soft glow from dusk to dawn.
Ornamental Buoys add a nautical touch to any lawn or patio.  Our ornamental Lawn Buoys come equipped with a solar powered light that gives off a soft glow from dusk till dawn. Powder coated anchor stakes are included to secure the lawn buoy in place.  Get your Amish crafted

Red Buoy is available with plate numbers #2,4,6,8   
Green buoy available with plate numbers #1,3,5,7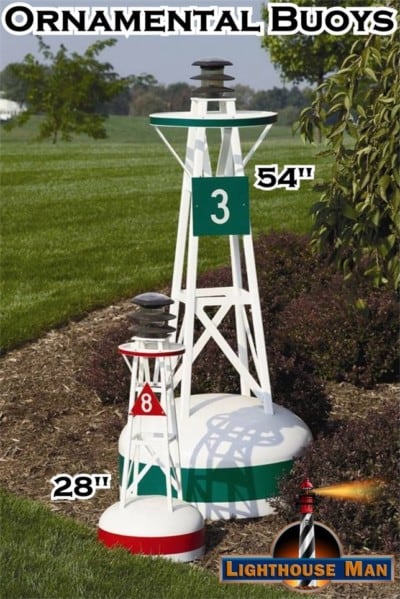 Available in two sizes 28″ and 54″
Available only in Red or Green
Single digit numbers are available on the number plate.
Green = Odd Numbers # 1,3,5,7,9
Red = Even Numbers # 2,4,6,8
Replacement Part
Solar Relplacement Lights
Custom Number For Buoys
Up To 3 Digits.  Add to shopping Cart then in the special notes section add the number you want.
Why choose The Lighthouse Man?
The Lighthouse Man specialize in providing you with ornamental buoys, outdoor decorative buoys, and PVC, Fiberglass buoys that are elegant and affordable.  All of our yard or lawn Buoys are designed from authentic Fiberglass and PVC which adds durability and value to your pond or patio.  We are widely recognized for our high-quality lighthouses and nautical decor.  Each Amish crafted ornamental buoy features the following strict criteria:
Most Authentic looking outdoor ornamental lawn buoys on the market.
Made from Fiberglass, and PVC.  Will NEVER deteriorate!!!
Maintenance Free, will not crack, splinter, or delaminate
Stainless steel fastners and fittings, (Will Not Rust)
All parts and pieces are cut out on CNC machines for 100% accuracy.
Comes standard with an LED solar light
No major assembly required.   We do everything for you!!!
Built in the USA, Handcraftted right here in PA.
We service what we sell.
Replacement parts and repair services always available
20+ years of experience building custom crafted lighthouses and nautical decor.
Decorative Home Ornamental Buoys



Accent your cabin, study or den with one of our charming decorative ornamental  buoys.  It will look great when combined with other nautical items.  Buoys have long been used by fisherman in fishing along the entire Coast line , the wooden buoys used by the Maine coast lobsterman have a unique and storied past. Buoys are the visible brands of range.
Cutting or stealing a lobster buoy in Maine is considered worse than cattle rustling.  Bullets have been fired in anger and boats of unknown buoy rustlers have settled slowly to the bottom of the sea under a no-telling starry northern smile from the heavens.  The Maine law that governs the pilfering of buoys is among the strictest, but if there is one souvenir each Maine tourist covets, it's the lobster buoy.