Painted Wooden Lighthouse Color Changes

Now available: Painted Wooden Lighthouse Color Changes:  ***For FREE ***   Change colors of your wooden Lighthouse to to match your decor.  Our garden wooden lighthouses are hand-painted to replicate actual lighthouses, but we will custom paint any of our wooden yard lighthouse ornament to match your personal choice or decor at "NO" additional charge.  Please view our Color Chart below for available colors.
14 Custom Colors to choose from……..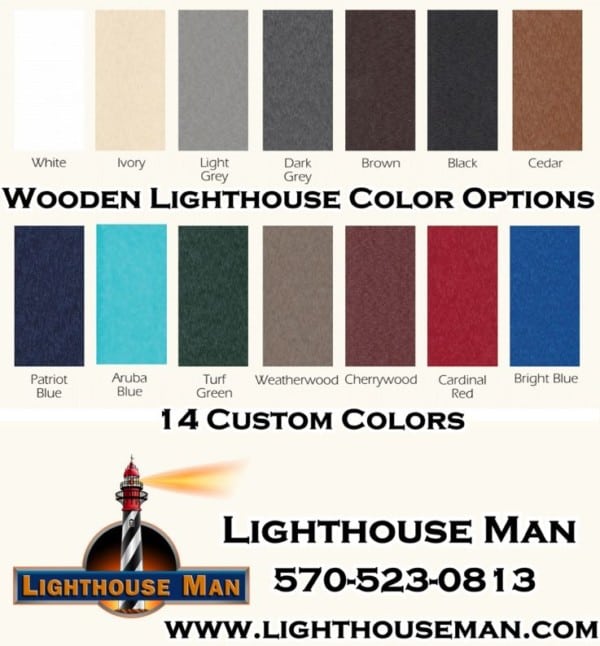 How to order a Custom Color Wooden Lighthouse
Ordering a Painted Wooden Lighthouse Color Changes is as easy as 1-2-3.
Please follow the steps below to order a special order color change lighthouse.
1) Simply add the wooden lighthouse model that you desire to your shopping cart.
2) Next, plase add or include any accessories that you would like to add to your shopping cart.  Once everything has been added to your shopping cart then please click on the large Orange Order Button.
3) Now this will take you to our payment section of the shopping cart.  Please scroll down this page until you see a Comments / Special Notes section.  This also is highlighted in Orange to draw your attention.  This is where you will simply write out what color combination you would like to order.  Fore example lets say you want to order the Wooden Cape Hatteras Lighthouse but you want the colors to dark blue instead of black.   All you need to do is then write in the comment section that you want to change all of the black parts on the lighthouse to Patriot Blue.   Then once we receive your order we will always reply back letting you know that we received your special order color change.
If for any reason you do not feel comfortable placing the order on-line and would like to order this over the phone that is perfectly fine.  Please call us at 570-523-0813 and we will gladely take your order.     Please note if you have a very complex color change order and want to change different sections of the the lighthouse to several different colors then please call us to place you order so we can go over each individual section of the lighthouse so we are sure to do it exactly as you want it…