Cape Hatteras Deluxe Stucco Lawn Lighthouse
The Cape Hatteras Deluxe Stucco Lawn Lighthouse is part of our signature line of lawn and garden lighthouses, and sets the industry standard for authenticity and excellent, hand-crafted quality.
Our beautiful deluxe stucco lighthouse reproductions are 100% handcrafted from a solid, weatherproof foam core and covered with synthetic stucco.  Each unit is then meticulously hand painted using marine grade paints to accurately replicate the real Cape Hatteras lighthouse. Lasting up to 8 times longer than any other lighthouse on the market, our lighthouse is also highly weather-resistant to whatever harsh elements come its way. 
Why does Lighthouse Man have the best handcrafted lighthouses?
Lighthouse Man is the LEADING manufacturer of custom crafted lawn lighthouses and lighthouse accessories. We are widely recognized for our high-quality lighthouses and close attention to detail.  Each Cape Hatteras exterior replica features the following criteria:
Solid Foam Core that NEVER deteriorates
Maintenance-free synthetic stucco exterior will not crack or delaminate
Marine wood base plate and top. 
Exterior grade Marine paint
Aluminum railings that will never rust
Factory cast aluminum "cage" or top housing
Acrylic shatter proof lens for the cage that will not discolor or crack.
Detailed six-paneled door with real trim molding
Custom crafted glass windows with trim molding and decorative curtains.
Authentic top assembly, with a two-tier catwalk.
100% Hand-painted by a detail artist.  (No mass spraying!)
All parts and pieces are cut out on CNC machines for 100% accuracy.
Standard electric 40-watt bulb included
Features 8′ of high-quality exterior-grade electrical wire and plug.
No major assembly required.  We do everything for you!!!
Built in the USA, handcrafted in Lewisburg, PA.
Replacement parts and repair services always available
20+ years of experience building custom crafted lighthouses.
Lighthouse Lighting Accessories
The Deluxe Cape Hatteras lighthouse is fully customizable with a wide range of lighting options. Take your garden replica to the next level with a rotating beacon or impress friends and neighbors with LED Light-up Windows. You can connect to an existing outdoor low voltage system or choose our top-of-the-line solar beacon that lasts 14 days on a single charge.
The Lighthouse Man also maintains a full inventory of custom marine paint colors.  Our deluxe lighthouses can be changed match your decor at no additional cost.
The Cape Hatteras lighthouse is available is several different sizes that are great for any location—small patios, large yards, or gardens. No matter the location, we have the perfect size Cape Hatteras Garden Lighthouse for your needs.
Options for Everyone!
At The Lighthouse Man, we know not everyone wants a Deluxe Lighthouse.  Therefore, we manufacture several different models of the Cape Hatteras lighthouse.  Check out these other options to find one that suits you best.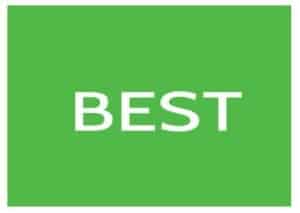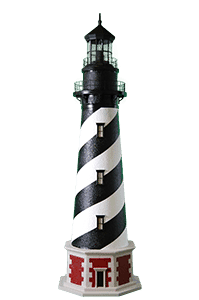 Deluxe Stucco Cape Hatteras
Verified Customer Comments and Reviews
Cape Hatteras Lighthouse, Buxton NC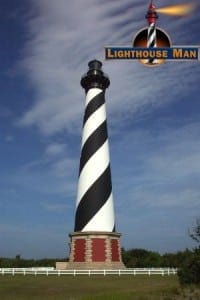 Location:  The Cape Hatteras Lighthouse is located on Cape Hatteras Island in the Outer Banks of North Carolina. Cape Hatteras Island is part of the Cape Hatteras National Seashore, an area frequently travelled by ships throughout history. This route is referred to as "the graveyard of the Atlantic" due to the large number of vessels that have run aground due to shifting sandbars created by the Gulf Stream and the colder water of the Labrador current. The most famous ship to run aground near Cape Hatteras Island was the Civil Warship, USS Monitor. In order to address this problem, Congress authorized the building of a lighthouse near the shoreline.
History:  In July 1797, Congress set aside $44,000 for the building of a lighthouse on Cape Hatteras Island as well as a lighted beacon to facilitate safe travel for ships near the Harbor of Ocracoke in North Carolina. The construction was started and completed in 1803. The original lighting system of the Cape Hatteras Lighthouse consisted of 18 lamps with 14-inch reflectors. Still, the Cape Hatteras Lighthouse only stood a miniscule 112 feet above sea level. According to USN LT. David D. Porter, the Cape Hatteras Lighthouse was virtually ineffective in its original construction. The steamer ships that ran the shipping line at night had brighter lights than the lighthouse and were often mistaken by other ship captains as the lighthouse beacon, drawing large ships closer to shore and into the breakers that eventually ran them aground.
For additional historical information pertaining to the Cape Hatteras Lighthouse, please click here to read our blog post about the Cape Hatteras Lighthouse